Bali Geography
Among 17,500 islands across the Indonesian archipelago, Bali is one of the 33 provinces of the Republic of Indonesia, the largest archipelagic country in the world, made up of 2,000,000 km2 of land with a chain of islands stretching over 500,000 km from Sumatra to Papua, and covers territorial waters of more than 5,000,000 km2.
Situated between Java and Lombok, the island of Bali is located 8 to 9 degrees south of the equator with the Java Sea to the north, the Indian Ocean to the south. Bali's covers an area of 5,636 km2 or 0.29% of Indonesia, measuring just 90km long the north-south axis and less than about 140km from west to east.
Divided into three areas of water, the North Bali Sea is about 3,168km2, the East about 3.350km2, and the West about 2,982km2. Bali Sea covers an area of 9,500km2. The North Bali sea runs along the coastline of Buleleng, the East Bali Sea runs along the coastline of Karangasem, Klungkung and Gianyar, and the West Bali Sea include the coastline of Badung Tabanan and Jembrana.
Bali Maps
Interactive Indonesia Map To show you how big Indonesia is, look at the interactive map. Click on orange colored islands to zoom. After that mouse over the red points for hint with the name of region. Bali Google Earth Maps Bali Maps Click on the city to open detailed map. You can download all these maps and print Bali Cities Map Bali Tourist Map
How to get to Bali
Flight
Ngurah Rai International Airport or Denpasar International Airport is located in South Kuta district and is just 13 kilometres from Denpasar, the capital of Bali. Flights from major international cities regularly fly in and out of the Denpasar Airport. It is also well connected to most of Indonesia and has regular domestic flights connecting it to major cities within the country. From the airport, you can easily hire a taxi to your destination. Please note that buses might not always be available from the airport.
Road
You can take a bus from Jakarta (the capital of Indonesia) to Bali, but only if you can brave the 23-hour bus journey.
Ship
Bali is quite a popular port for most cruise liners traversing through South East Asia. To get into Bali through the sea route, take a flight to Singapore, Sumatra or Java and take a ship for your onward journey to Bali. The information desks at the airport will guide you thoroughly.
Located in the Java Sea, Bali is an approximately 4 hour flight from Australia's west coast. Getting to Bali is convenient and affordable thanks to a fantastic range of flights offered by trusted airlines like Virgin Australia, Jetstar and Garuda Indonesia. Direct flights are available daily across major Australian airports such as Brisbane, Sydney and Melbourne, with connecting flights operating out of most Australian cities.
Transfers From Bali International Airport
International flights to Bali will land at Ngurah Rai International Airport (Denpasar Airport). Located 13km south of Denpasar and 2.5km from Kuta, the airport enjoys a close proximity to many popular Bali resorts and hotels. Taxi services are available from the airport to your resort and are located after customs on the arrivals level outside of the terminal. Taxis offer both metered and fixed fares, however, we do recommend agreeing on a fare before getting into the taxi. Shuttle transfers are the easiest and most convenient way to get from the airport to your resort and can be booked through your accommodation provider or online as you complete your booking with TravelOnline. Just add the transfers option to your quote or booking and we'll handle the rest.
Getting To The Islands
To access the islands off the east coast of Bali such as Lombok, Nusa Lembongan and the Gili Islands there are a number of ways to travel. The fastest way to reach the island of Lombok is via airplane. With a flight time of approximately half an hour, the flight leaves from Denpasar International and lands at Lombok International Airport. Unfortunately, there are no direct flight services to the Gili Islands or Nusa Lembongan, however you can catch a charter boat which is just a short transfer from Lombok International Airport.
Another popular way to get to the islands from Bali is via motorboat. Services for visitors staying in southern Bali regions such as Kuta, Legian and Seminyak depart from the marina at Serangan Island, while those staying in eastern Bali such as Ubud, depart from the Padangbai Harbour. These chartered services will take approximately 5 hours. A quicker way to access the islands is by fast boat, which departs form Serangan Island. These transfers only take 2.5 hours to reach the Gili Islands and include refreshments and entertainment. To access Lombok and Nusa Lembongan from the Gili's there are official hop boat services operating daily.
Cruising Bali
Many cruises to Bali are made up of larger itineraries that also visit nearby destinations such as Australia, Hong Kong and Singapore. As Bali is a smaller island, cruises will generally spend 1-4 days exploring Bali.
Climate Bali
Bali is an Indonesian island, located just a few degrees south of the equator. It has a tropical climate, hot all year round, with a rainy season from November to March, and a relatively dry season from April to October, when, however, some showers can still occur. In the rainy season, it usually rains a couple of hours in the morning and a couple of hours in the afternoon, while in the rest of the day the sun shines for a few hours.
Temperatures are high and uniform throughout the year. They are slightly higher from October to March, when the daily average is around 27 °C (81 °F), and a bit lower from June to September, when the daily average is around 26 °C (79 °F). In the rainy season, there's muggy heat due to high humidity.
Here are the average temperatures at the airport, located near the capital, Denpasar.

| Month | Jan | Feb | Mar | Apr | May | Jun | Jul | Aug | Sep | Oct | Nov | Dec |
| --- | --- | --- | --- | --- | --- | --- | --- | --- | --- | --- | --- | --- |
| Min (°C) | 23 | 23 | 23 | 23 | 23 | 22 | 22 | 22 | 22 | 23 | 23 | 23 |
| Max (°C) | 31 | 31 | 31 | 31 | 31 | 30 | 29 | 29 | 30 | 31 | 31 | 31 |
| Min (°F) | 73 | 73 | 73 | 73 | 73 | 72 | 72 | 72 | 72 | 73 | 73 | 73 |
| Max (°F) | 88 | 88 | 88 | 88 | 88 | 86 | 84 | 84 | 86 | 88 | 88 | 88 |
Throughout the year, 1,700 millimeters (67 inches) of rain fall, with a maximum from December to February, when the rainfall ranges from 280 to 350 mm (11 to 13.5 in) per month. In the dry period, from April to October, the rainfall is below 100 mm (4 in) per month, with a minimum in August of just 15 mm (0.6 in).
The rainfall amount, however, can change from one year to another, so if we analyze the rainfall records, we can see that sometimes the rainy season can last until April, or begin as early as in October.
Here is the average precipitation in Denpasar.

| Month | Jan | Feb | Mar | Apr | May | Jun | Jul | Aug | Sep | Oct | Nov | Dec | Year |
| --- | --- | --- | --- | --- | --- | --- | --- | --- | --- | --- | --- | --- | --- |
| Prec.(mm) | 350 | 280 | 215 | 90 | 75 | 70 | 50 | 15 | 40 | 90 | 150 | 290 | 1715 |
| Prec.(in) | 13,8 | 11 | 8,5 | 3,5 | 3 | 2,8 | 2 | 0,6 | 1,6 | 3,5 | 5,9 | 11,4 | 67,5 |
| Days | 19 | 18 | 20 | 12 | 8 | 7 | 4 | 3 | 3 | 6 | 10 | 16 | 126 |
In the interior of the island, occupied by hills and mountains, the weather is more likely to be cloudy and rainy. The highest peak is Agung volcano, 3,000 meters (9,800 feet) high. Being closer to the inland elevations, the northern coast is rainier than the southern one. The southern part of the island, where Denpasar is located, in addition to cities such as Kuta, Seminyak and Pecatu, is therefore the least rainy. If you are planning some hiking at high altitudes, keep in mind that above 1,000 meters (3,300 feet), in towns such as Bedugul and Kintamani, it's cool in the evening and at night, especially in the dry season, while above 2,000 meters (6,500 feet) it can get quite cold. In addition, at noon and in the afternoon the chance of thunderstorms in the highlands is higher than on the southern side, where the majority of the resorts are found.
In Bali, there's plenty of sunshine in the dry season, while in the rainy season the sun shines for a few hours a day, between one rain shower and another. In the interior of the island, a blanket of clouds often lies over the mountain peaks.

| Month | Jan | Feb | Mar | Apr | May | Jun | Jul | Aug | Sep | Oct | Nov | Dec |
| --- | --- | --- | --- | --- | --- | --- | --- | --- | --- | --- | --- | --- |
| Hours | 6 | 6 | 7 | 8 | 9 | 10 | 10 | 10 | 9 | 9 | 7 | 7 |
From November to mid-May, but more often from January to mid-April, Bali can be brushed by tropical cyclones, which usually do not hit it directly, but pass over the ocean not far to the south, bringing an increase in wind and rainfall.
The sea in Bali is warm enough to swim in throughout the year: the water temperature ranges from 27 °C (81 °F) between July and September, to 29 °C (84 °F) between November and May. The western part of the Bukit peninsula, where waves are higher, is preferable for surfing.

| Month | Jan | Feb | Mar | Apr | May | Jun | Jul | Aug | Sep | Oct | Nov | Dec |
| --- | --- | --- | --- | --- | --- | --- | --- | --- | --- | --- | --- | --- |
| Temp (°C) | 29 | 29 | 29 | 29 | 29 | 28 | 27 | 27 | 27 | 28 | 29 | 29 |
| Temp (°F) | 84 | 84 | 84 | 84 | 84 | 82 | 81 | 81 | 81 | 82 | 84 | 84 |
Best Time
The best time to travel to Bali and enjoy its beaches is from June to September, the weather is usually sunny, the heat is not too intense, and in any case, it's tempered by the breeze. There are just some brief downpours or thunderstorms every now and then, which, however, are more likely at night and in the early morning. August is the best month, since it is the driest. May and October, too, are months you may want to consider, in fact they are the best ones among those that do not fall in the high season: they are a bit more muggy and rainy, but they are still out of the actual rainy season. However, in inland and mountainous areas, thunderstorms are frequent.

What to pack
Being that Bali's climate is hot all year round, you can bring light clothes of natural fibers, a sun hat, a scarf for the breeze, and a light sweatshirt for the evening. From November to March, you can add a light raincoat or an umbrella.
When going to the reef, you can bring snorkeling equipment, including water shoes or rubber-soled shoes.
When going mountain climbing, bring hiking shoes, a sweatshirt or sweater, a jacket, and a raincoat.
Economy Of Bali
For the last thirty years Bali has been developed as one of the world's premier tourist destinations, receiving over 2 million visitors a year. The planning of tourism development focused on the south of the island (Nusa Dua, Sanur, Kuta and Legian) was intended to minimise the impacts of tourism on the island's cultural life but has led to inequities between the south and other parts of the island. Tourism had grown to be Bali's main economic sector, direct supporting roughly 58,000 jobs with more than 20% of the population directly dependent on the sector. The overall contribution of tourism to Bali's economy is estimated to be in the region of 60-70%.
The bombings in Kuta on 12th October 2002 caused an enormous loss of life and damage to the social and economic fabric of Bali. Despite the efforts of the government and provincial authorities, direct international tourist arrivals dropped from 150,747 in September to 31,498 in November 2002. The period from December 2002 to March 2003 saw signs of a recovery in tourist arrivals, but plummeted again in April and May 2003 through the impacts of the outbreak of SARS and the war in Iraq on international tourism. Although Bali has seen downturns in tourist arrivals in the past, including the Gulf war of 1991, the island has never before experienced a crisis of such magnitude and duration.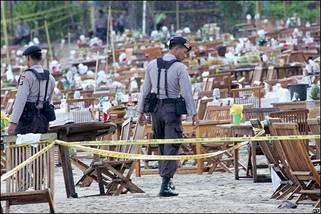 The crisis in Bali's tourism sector has had an impact both on tourist-related sectors and local livelihoods. not just in Bali but also in other areas such as East Java and Lombok that are dependent on market demand in Bali. Bali's economic recovery remained vulnerable to both future international and domestic events including the war in Iraq and tensions surrounding the trial of the bombers and 2004 elections in Indonesia.
Bali's economical high dependence on tourism and the resultant reduction in tourist arrivals impacted the island heavily, leading to a financial crisis in the business sector, which is dominated by tourism and small tourist-related businesses such as handicraft producers and traders, job losses, reduced family incomes and welfare and an increase in social tensions. The current situation requires flexible long-term approaches to promote recovery and sustainable human development in Bali.
Bali's Tourism Boom
The island of Bali has developed as one of the world's premier tourist destinations with
over one million foreign visitors flying directly to Bali each year since 1994. Since the mid-eighties, visitor numbers to Indonesia as a whole as well as Bali have increased by more than six-fold, doubling in the 1990s, with around one-quarter of tourist arrivals to Indonesia being direct arrivals into Bali. Despite the turbulent times of Indonesian economic upheavals and political transition after 1998, visitors continued to come, in part due to a cheaper Rupiah.
While Bali's 3.4 million inhabitants account for just 1.6 percent of Indonesia's population, almost all foreigners coming to Indonesia are exposed to the island.
The international image of Indonesia indeed appears inextricably tied to Bali. Actual visitors to Bali far exceed those arriving directly in Denpasar, with an estimated one half of international visitors to Bali coming via other ports such as Jakarta, often combining their visit with other destinations such as Yogyakarta.1 In addition, many Indonesians, as well as foreigners based in Indonesia, choose Bali for their domestic holiday. Visitors to Bali therefore include three types: foreign direct arrivals, indirect foreign arrivals and domestic visitors. East Java, with a population of more than 38 million and a workforce of over 18 million, is Indonesia's second most populous province. It has significant linkages to Bali based largely upon trade and migration. The province has increasingly provided for the needs of the growth of the Bali tourist industry including handicrafts, furniture, silver, and food as well as migrant labor. Major commodities traded with Bali include wood, rattan, silver, metal, stone and gemstones, bamboo, leather, clay and ceramics, garments, food and fresh produce.
The first Bali Tourism Development Master plan was funded by UNDP with the World Bank as executing agency. Development began in April 1970 by the French firm Societe Centrale pour l'Equipement Touristique Outre-Mer (SCETO). By 2000, Bali had 113 starred hotels. With over thirty six thousand rooms, Bali now had over five times as many rooms as the ambitious targets initially set by the SCETO planners. The majority of these rooms were attributable to the non-starred sector.
Small and Medium Sized Businesses
Many small and medium-sized businesses in Bali are in need of support to ensure the survival of those with good long-term prospects. The government and donors should focus on immediate initiatives to support the financial situation of local businesses through debt restructuring and perhaps other fiscal measures, provide support with training for business management in a crisis situation, and support businesses in accessing new markets for existing products.
Access to markets is considered to be the main problem facing small business affected by the crisis. These impacts are felt well beyond Bali and require enhanced efforts in marketing and trade promotion to support affected businesses. In particular, the effective provision of information, cooperation between provinces, and where appropriate, the use of information technology and the media can help to make promotion cost-effective. Regional governments and business associations should seek how to use Indonesia's overseas missions and trade promotion facilities in their marketing activities.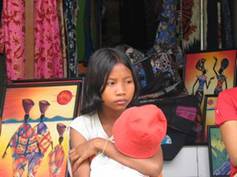 Social welfare impacts have increased since January 2003 and Bali is now truly experiencing the beginning of the predicted socio-economic crisis following the Kuta tragedy. Current information indicates that probably hundreds of thousands of people have experienced substantial reductions in working hours and salaries for a sustained period since the crisis began, while many others have lost jobs and livelihoods. Unemployment, and more importantly underemployment, is emerging as one of the key issues requiring response.
Sustainable Development and Growth
Rather than depending on tourism for the future, Bali further needs to diversify its economy, especially to support further growth and development in the districts where tourism does not play a significant role in the economy. Small and medium-sized enterprises in Bali, East Java, Lombok, and beyond dependent on markets in Bali require support in order to reduce their dependence on tourist arrivals and create more sustainable local comprehensive economic development plans.
Although Bali is currently in crisis, Bali has much potential for future investment. Foreign investors can assist in bringing in skills and experience that can support the development of added-value industries.
Small Businesses: Building a Strong Private Sector
Bali has emerged as the showroom for many Indonesian products. Yet with Indonesia facing increased competition from other countries for export markets, there is a long-term need for Bali to cultivate further innovation, competitiveness, and market development in order to reap more fruits from new sectors and move up the value chain.
SMEs, fair trade systems and village industries need to be supported for technical assistance for product design, innovation, production, marketing, management, business strategy development, education and vocational training from unskilled to skilled workers and support vocational training institutes, use information technology and multimedia tools to support, define, and win new markets, make information and training available to small businesses and cooperatives on relevant appropriate technologies, consolidate information on economic potential providing easy access for small businesses, cooperatives and small investors.
Bali's History
Top historical events from 7th century to today
7th century
Indian traders influenced many sectors of life of the Balinese, including the Hindu religion and trading goods for a living.
9th century
Sanskrit inscriptions on stones are hidden in Sanur.
1292
After the fall of Javanese King, Kartanegara, Bali obtains its independence.
1343
Patih Gajah Mada, Majapahit's greatest prime minister, managed to take over Bali and once again, the island is under Javanese control. Evidences still remain in Klungkung region, Semarapura.
1520
Islam influences Java and most of the Javaneses convert to Islam. There is a huge exodus of priests, artists, and intellectuals from Java to Bali due to the disagreement against the conversion. This makes Bali a Hindu concentrate area.
1546
Nirartha, a priest, builds places for worship for the Hindus and some of the dozen amounts include Pura Luhur Ulu Watu and Pura Tanah Lot.
1579-1597
Francis Drake, an European who is in search of spices, arrives at Bali. More Europeans come looking for spices including the Portuguese and the Dutch.
1795-1815
European wars to conquer the area causes shifts of controls, from Dutch to French to British and eventually goes back to the Dutch.
1830
This year marks the end of slavery in Bali
1891-1894
There are rebellions against the Dutch but none of them succeeds
1912
Early exposure of Bali to the international stage when Gregor Krause, a German visitor, takes pictures of topless local females. After the World War I ends, a stream of Dutch visitors come to Bali, mainly to Singaraja.
1945-1946
Indonesia proclaims its independence from the Dutch with intense revolutions afterwards. I Gusti Ngurah Rai, a Balinese warrior who fights for freedom in Puputan Margarana war dies but the Dutch lose their colonial confidence since then.
1960
The airport has been renovated and the tickets are available. Sanur starts off the mass tourism with its Bali Beach Hotel (now Grand Inna Sanur).
1963
Gunung Agung eruption causes the deaths of thousand people. Hundred thousands were evacuated.
1972-1979
Australian filmmaker, Alby Falzon, shoots a short documentary video which leads to a stream of Australian visitors afterwards. Australian visitor manages to start a club to cater these tourists style of partying.
1998
President Soeharto resigns after 32 years of reign. However, his family owns and controls some of prestigious resorts in Bali.
2000
The effect of Soeharto resignation is the violence by Moslem sponsored riots that happen in almost any parts of the cities including the island of Bali. Hundreds of Chineses and Christians fly to Lombok as their businesses are burnt.
2002
One of the biggest highlight in Bali. Bali Bombings that cause the deaths of hundreds of people. Bali economy is soon shattered after 2 suicide bombers blow 2 famous clubs in Bali, the Paddy's Pub and Sari Club. The bombs are attached to a backpack and a van. The detonation of these bombs in the main street of Kuta is purposely done by Jemaah Islamiyah, an extreme Islamist group who disagrees on government support towards the United States and Australia.
2004
Permanent memorial is built on what it's used to be Paddy's pub. It is made from carved stone in Balinese style with marble plaque that enlists all of the victims (202 people). Australian ambassador and the local officials including the victims' families attend the ceremony dedicated to commemorate the incident.
2005
Bombs explode on 2 major tourist attraction sites, Kuta town square and Jimbaran, killing 20 locals and hundreds of men injured. One of the bombs is carried in a backpack and blasts inside Raja's restaurant; the other one is exploded in one of Jimbaran's restaurants. Mutilated bodies are a strong evidence that it is a suicide bombing. Abu Bakar Bashir is found guilty of the conspiracy behind the bombing. He is sentenced for 15 years in prison. This raises controversies as the public think he deserves death sentence.
2010
Bali tourism begins to blossom again after a series of tensions that happen around. The island hosts International Geothermal Congress 2010; which signifies clearly that tourists are safe to come to Bali. The movie Eat Pray Love that stars Julia Roberts exposes Bali and Ubud in particular.
2010-2015
Many international events take place in Bali, including the East Asia Summit 2012, APEC CEO summitin 2013 and Miss World 2014. Bali first highway above the sea takes only 14 months to finish. It is constructed to avoid traffic congestion as the country hosts the 2013 APEC conference. The new international airport has opened, capable of handling up to 12mio passengers a year.
Nov 2017
Mount Agung awakens and erupts several times, staying active for several months. Thousands had to be evacuated since the government established a safety zone. Even though nothing really bad happened this situation came down harsh on the Balinese. Tourism numbers dropped drastically which affects almost every line of business causing immediate layoffs. And the people, mostly the poor families and farmers near the mountain had to be evacuated for several months. The living conditions in these camps were hard and the life stock of the farmers suffered because they could have not taken care of properly.
June 2018
A new governor, Wayan Koster, has been elected by the Balinese people, and overall, since the democracy is maturing, the Balinese have high hopes in this new governor to help them tackle some pressing issues and making sure the island can thrive. Foreigners and the tourism industry are mostly concerned with the increase in traffic and trash problem, among other pressing issues.
August 2018
Several earthquakes near Lombok caused heavy damage in the north of Lombok, killing almost 400 people. People were fleeing the then packed Gili Islands. Some damage was recorded in Bali, yet status 23. August 2018, Bali was more or less unaffected.
About Bali